La nouvelle star NBA, Stephen Curry, s'associe à la marque de filtration Brita… attention ça mouille.
Ce nom – Stephen Curry – ne vous dit peut-être pas grand-chose mais, de l'autre côté de l'Atlantique, il est le nouveau visage du basket US. Un basketteur à taille humaine (191cm, ndlr) qui a séduit l'Amérique mais aussi quelques sponsors grâce à des prestations plus que solides (MVP de la saison 2014-2015 et Champion NBA 2015 avec les Golden State Warriors) et une image de… gendre idéal.
Et après avoir signé en septembre 2015 une extension de 7 ans avec l'équipementier Under Armor (pour 20 millions de dollars par an), l'homme à la kid face récidive en proclamant sur son compte Twitter son amour pour Brita et son filtrée.
What's my favorite drink? #H2Ofcourse. Excited to start working with @BritaUSA to get more people to #DrinkH20. Drink Up.

— Stephen Curry (@StephenCurry30) 17 Décembre 2015
Nouvel ambassadeur des produits de la marque, Stephen Curry sera mis en avant dans une campagne publicitaire TV (à l'horizon mars 2016) et son image sera également utilisée pour le digital et lors d'opérations de relations publiques.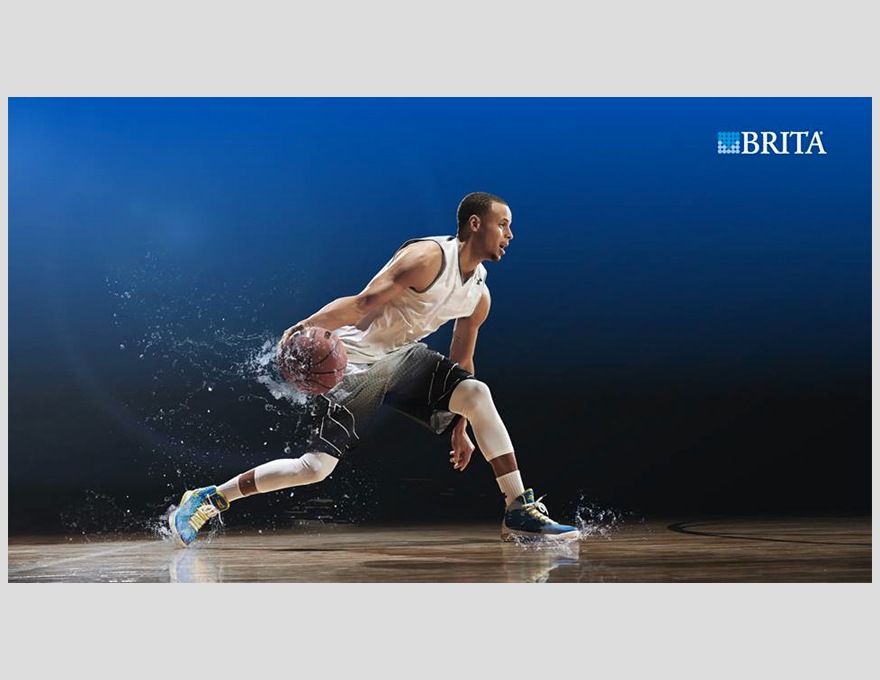 Stephen Curry entend certes faire la promotion de l'eau, mais aussi lutter contre l'obésité.
[themeone_quote color= » »]« Boire de l'eau potable est essentiel à un mode de vie sain ! »[/themeone_quote]
[themeone_spacer height= »20px »]
Un discours et une signature qui réjouissent bien évidemment Ed Huber, Manager Général de Brita.
[themeone_quote color= » »]« Stephen Curry aurait pu évidemment signer un contrat avec n'importe quelle boisson. En signant avec Brita, Stephen Curry envoie un message important, celui que l'eau potable est le meilleur choix pour chacun en Amérique… »[/themeone_quote]
[themeone_spacer height= »20px »]
Le gendre idéal on vous dit.
Pour toutes infos et questions sur le Celebrity Marketing, contactez-nous.
[themeone_pull_quote align= »left » border= » » width= »40% »]
Crédit Photos © : Brita & NBA
[/themeone_pull_quote]